The energy of the Black Tourmaline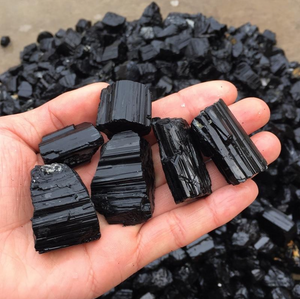 When you feel all kind of negativity around you, and need help with grounding to earth,100g Natural Black Tourmaline Crystal Rough Stone is the ultimate stone for you! 
The energy of Black Tourmaline tumbled stones can provide you with protection against all kinds of negativity and electromagnetic pollution, work with the root chakra and help in grounding energy and promoting vitality.  Their healing properties are also known to have the ability to balance and cleanse your aura
Powerful grounding stone, electrical in nature, which will help you to provide a connection between Earth and the human spirit. its supportive energy aligns the energy centers of the body and channels healing light throughout the system.
The Black Tourmaline Crystal is also well known for its incredible ability to aid in the detoxification process of the human body. It is one of only a handful of minerals that have the ability to emit negative ions and far-infrared rays!
Keep the Black tourmaline always close to you so that you will always have good health, happiness, good luck, and optimism

Leave a comment
Comments will be approved before showing up.